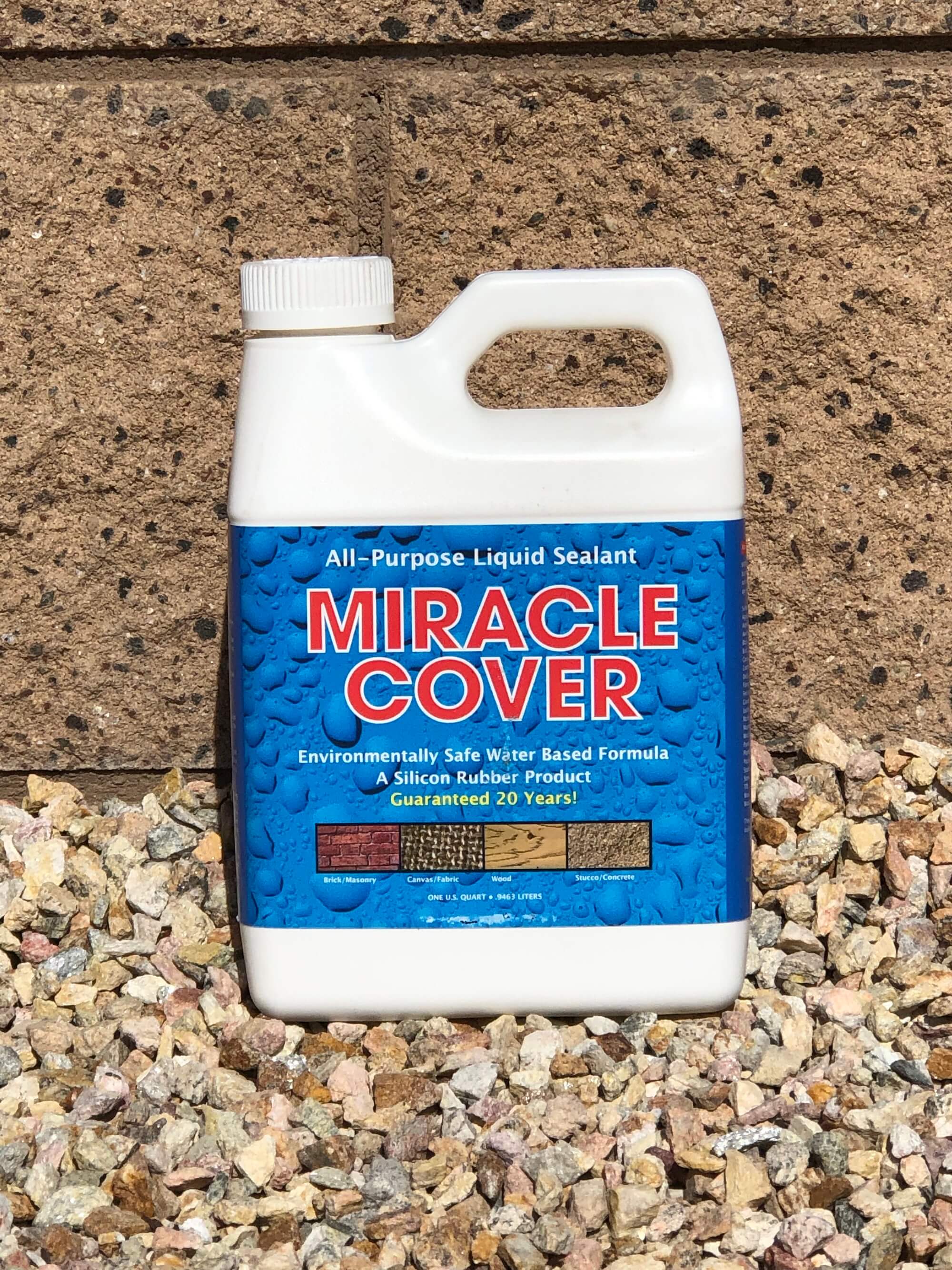 One other key feature of Miracle Cover is that it allows the substrate to "breathe" which allows the moisture and chemicals in the substrate to escape without allowing moisture and chemicals to enter through the sealant into the substrate. This is called the perm rate. This characteristic sets Miracle Cover apart from other type of sealers since they are usually surface coating petrol-chemical sealers that trap in the moisture and chemicals, damaging the substrate and top coat of the sealer, while causing cracking, alligatoring, peeling and damage to the sealer itself.
Miracle Cover is so versatile, it can be added to and top coated over all paints (including epoxy) and eliminates the need for a primer coat because Miracle Cover acts as an bonding agent adhesive as well as paint additive. Our tests have shown that adding 1 cup per gallon can double the life of any paint, stain, varnish.
Unlike the other toxic sealers on the market, Miracle Cover dries to touch usually in minutes depending on weather conditions, surface and amount used. Miracle Cover will fully cure in 24hrs. It dries to a clear finish and slightly darkens the color of the surface being coated.
Miracle Cover outperforms the competition!
Our 21st century product has a 20yr Warranty, and is the only one of its kind in the U.S industry for an Inorganic penetrating water based sealer.Protect Your Property It provides low maintenance costs, fewer material replacements and necessary recoats since the product is long lasting. It will not yellow, chip, peel, crack, fade, discolor and is unaffected by Ultraviolet rays, salts, acids, or aging.
Inorganic
Miracle Cover will not break down as a result of the elements that destroys other organic products on the market. All other organic products can be broken down by elements such as water, salts, acids, UV Rays and Chlorine.
Nontoxic
Miracle Cover is nontoxic and contains no harmful petrochemical or other toxic ingredients like all the other sealing products on the market today and will not harm the environment.
Synthetic Silicone Rubber
Miracle Cover resists mildew, mold, insects, rain damage, dry rot, stains, and all the other harsh chemicals listed above. Miracle Cover is almost indestructible by environmental and natural elements. While it protects the treated surface from the environment,
All Weather Protection
Miracle Cover performs fantastically in astounding temperature range of -70F to + 400F. Miracle Cover has an elasticity of 400%, and prevents freeze, thaw, peeling, cracking and sprawling.
What is it Miracle Cover
Miracle Cover is a water-based emulsion (mixture) type silicone rubber sealant, made and Manufactured in the United States, and offers complete protection for porous and non-porus materials.
Silicone rubber is derived from inorganic silica (sand). Silicones were developed for commercial use during World War II for military applications requiring extreme temperature resistance. Over the years, numerous advances have been made, improving tensile strength, elongation, tear resistance, etc. In addition to its broad temperature resistant properties, silicone rubber now possesses physical values far superior to a number of other synthetic polymers. Silicone rubber is made up of a backbone of silicone and oxygen atoms. This unique linkage is the same as that found in other high temperature materials such as quartz and glass. As a result, silicone rubber provides outstanding high and low temperature resistant properties as well as general inertness toward many deteriorating effects such as ozone, corona, weathering, UV rays, acids, bases, salts, oils, fuels, fluids, and food products.
Why should I use Miracle Cover?
Miracle Cover offers superior protection than that of other organic sealers and compounds like Thomson's Water seal and other Acrylic type products. Almost all other water based sealers are based on a derivative of Petroleum, or other synthetic compounds that are organic in nature, and generally this type of product will degrade over a short period of time when exposed to the elements. The initial costs may be cheaper, but you pay later because you have to re-treat the surface, usually on a Seasonal basis. If you have any doubts about this… JUST READ THE CAN!!!
Under most normal circumstances Miracle Cover requires only ONEapplication which will last for up to 20 yrs., if applied according to manufactures instructions. This saves you time and money since you don't have to come back seasonally and pay again for the product/retreatment labor costs.
Miracle Cover is based on the revolutionary concept of using inorganic silica to create silicone rubber in a water-based product. This process produces a superior sealer that is impervious to almost everything mother nature can throw at it. Miracle Cover comes with a 20 manufacturer's warranty.
One of the best features of Miracle Cover is that it is water-based, non toxic, and that means it is friendly to the environment. With our product; Hazardous waste removal and shipping, dangerous fumes, chemical odors, messy cleanup are a thing of the past. Clean up is as easy as soap and water. Along with being nontoxic, it has none of the properties that weaken other Petroleum Based Products on the market.
What does Miracle Cover protect or prevent?
Miracle Cover protects against:
Rain Damage
Salt Damage
Dry Rot
Wet Rot
Wood Eating Insects (termites)
Stains
Mildew and Mold
Oxidation
Miracle Cover prevents:
Freezeing, Thawing, and Cracking
Insulation robbed of value from moisture
Oxidation of surface and materials from sun sun and ozone
Rapid discoloration of fine exterior woods like cedar and redwood when natural look is desired
How is Miracle Cover tested?
The Bremmer Test
The bremmer test is designed to simulate a 60 mile per hour wind driven rain on the tested product for a definite period of time. Measurements are made of water penetration every 5 minutes up to a 12 hour period on untreated product that had been previously sealed with MIRACLE COVER.
Products Tested:
The Bremmer test was conducted on a large brick, a small brick, and on mortar joints.
Test

Surface
Tested

Elapsed
Time

Water
Penetration

(A)

Untreated Large Brick

20 Minutes
1 Hour
2 Hours

1/2

 

Inch
1 Inch
2

 

1/4

 

Inches

MIRACLE COVER 
Treated Large Brick

1 Hour
4 Hours
6  Hours
12 Hours

0 (None)
0  (None)
1/8

 

Inch
1/4

 

Inch

(B)

Untreated Small Brick

20 Minutes
1 Hour
2 Hours

2/3

 

Inch
1

 

1/4

 

Inches
2

 

1/3

 

Inches

MIRACLE COVER 
Treated Small Brick

1 Hour
4 Hours
6  Hours
12 Hours

0 (None)
0  (None)
1/8

 

Inch
1/4

 

Inch

(C)

Untreated Mortar Joints

5 Minutes

1 Inch

MIRACLE COVER
Treated Mortar Joints

1 Hour
4 Hours
6  Hours
12 Hours

0 (None)
0  (None)
1/8

 

Inch
1/4

 

Inch
How is Miracle Cover applied?
Application on Vertical Surfaces:
Application with an airless sprayer, garden/pump-up sprayer, brush, or roller are recommended for best results. Spray uniformly to form a continuous film. A three (3) to four (4) inch run-down is desirable for most vertical surfaces. The application rate may vary depending on the porosity and texture of the surface. MIRACLE COVER must be applied to a clean, dry surface free from water, dirt, oil, and other materials to allow for best penetration and adhesion. The repellent must not be applied during inclement weather or when precipitation appears imminent.
Application on Horizontal Surfaces:
Use the same methods as on vertical surfaces and apply enough MIRACLE COVER to saturate the surface. Remove any excess MIRACLE COVER that "puddles", as these spots will discolor and become slippery when wet.
General Application Information:
Water saturated surfaces may reduce penetration. Damp substrates will increase cure time, but will not harm the effectiveness of the sealer. When utilizing a sprayer, spray to saturation level making sure all substrate has come in contact with the product. Cover and protect all surfaces not to be treated (i.e. glass, shrubbery, etc.). Immediately wash sealer off surfaces not to be treated with soap and water. If set up has occurred, clean equipment with mineral spirits or paint thinner.
Paint Additive:
MIRACLE COVER can be mixed with paint (Latex or any other water or oil based) or stain. This enables the paint to take on the water proofing properties of the sealant without affecting it's quality and eliminates the need of a paint primer. Add one (1) cup of MIRACLE COVER per gallon of paint. Coverage is the same as indicated by the paint supplier.
Drying Time:
Drying time will vary according to temperature, humidity, and wind conditions. Under cool and/or humid conditions, a day or two may be required for complete evaporation of liquid.
Estimated Coverage for Porous Surfaces (in square feet) 
| | |
| --- | --- |
| Material | Sq. Ft. per Gallon |
| Concrete | 200 |
| Brick | 150 |
| Stone | 200 |
| Concrete Block | 150 |
| Wood | 125 |
| Cedar Shingles | 100 |
| Stucco | 175 |
| Plastics | 200 |
| Cinder Block | 150 |
| Wood Decks | 200 |
| Aggregate | 150 |
| Canvas | 200 |
| Masonry | 200 |
| Metal Surfaces | 200 |
| Leather/Vinyl | 200 |
| Boats | 250 |
Notice:
MIRACLE COVER should always be tried on an inconspicuous area to check appearance and penetration.
What does Miracle Cover do for me?
All of the following and more 
Produces a clear, transparent, penetration film on any surface and doesn't discolor or degrade when exposed to ultraviolet radiation.

Has proprietary additives which enable it to penetrate porous materials. The water evaporates, leaving silicone rubber under the surface.

Is resistant to salt and acids, cannot be attacked by insects (including termites), prevents mold, stretches to handle structural movement, up to 400%, and is an excellent bonding agent.

Provides maximum water repellency for masonry, wood, concrete, and other materials and helps protect them from salt spray and acid rain.

Is "breathable", allowing moisture vapor to permeate the coating while repelling surface water.

Is environmentally and biologically safe, containing no solvents.

Is nontoxic and has no flash point.

Can be mixed with both water based and oil based paints to give you instant water proofing in one easy application.

Has virtually unlimited uses and can be applied to any of the following surfaces (and more):

Asphalt
Brick
Cloth
Concrete
Leather
Metal
Plastic
Plywood
Stucco
Shingles
Tile
Wood
One application will substantially prolong the life, beauty, and usefulness of wood, concrete, tile, and masonry materials.
Is Miracle Cover warranted?
MIRACLE COVER INC. warrants this material to be free from defects for a period of 20 years from the date hereof when applied in accordance to the manufacture's directions for application. In the event of a claim for warranty, MIRACLE COVER INC. will replace the product free of charge, including freight, or at its option, refund the purchaser the price paid as evidenced by the purchaser's receipt of purchase.
This warranty is in lieu of all other warranties expressed or implied, including any implied warranty of merchantibility and fitness for a particular purpose, and remedy permitted herein shall be the exclusive remedy of the buyer. Seller's liability shall be limited to replacement of defective material. In no event shall the seller be liable for onsequential or or incidental damages. This paragraph is not applicable in consumer transaction or where prohibited by law.
All claims arising out of or relating to claims against the seller with the respect to MIRACLE COVER INC. SEALANTshall be determined by American Arbitration Association in the regional office nearest Wichita, Kansas, in accordance with the Construction Industry Arbitration Rules of the American Arbitration Association. The award rendered shall be final and judgment may be entered upon it in accordance with the applicable law in any court having jurisdiction.
Address
Raymond Board
R & R Associates
9640-B Mission Gorge Rd, #166
Santee, CA 92071